BOOK in German: Elements of health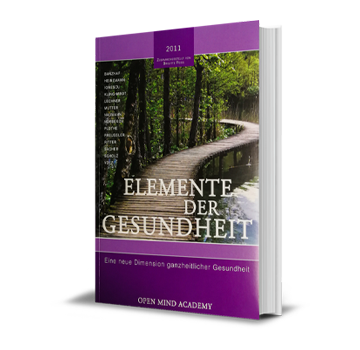 Prices incl. VAT plus shipping costs
Available, delivery time 1-3 days
Product information "BOOK in German: Elements of health "
Experts from a wide variety of medical fields, all of whom are committed to committed to holistic medicine centered on the well-being of the patient. feel committed to the well-being of the patient, have summarized their knowledge in this book. Here, a wide range of medical spectrum is presented at a very high level, from scientific level, from the scientifically based holistic medicine to the most medicine on the most current level up to the level of spiritual healing. healing. This wealth of information, which is not presented by theoreticians, but by practically active therapists, is conveyed in a generally understandable way. generally understandable way. It is the declared goal of the therapists to impart practical health knowledge that can be used by interested which can be used by interested laymen independently.
With this book we would like to address two groups of readers. To On the one hand people who want to inform themselves about important health issues of our time. want to inform. On the other hand, we would like to address ill people with our book, who are looking for information about their clinical picture. are looking for. For the latter, some very detailed information has been have been included. These can be very valuable for the individual. Therefore, even though they may be too specific for many readers, we have used these references specific for many readers, for this book.
OPEN MIND ACADEMY stands for a growing group of. scientists, physicians, and therapists who, with an alert and open and open minds, who look at the causes of diseases, analyze them and treat them purely Treat with the success of the patient in mind. These personalities contribute their power, knowledge and energy free of charge to the OPEN MIND ACADEMY - guided by the search for truth and the love for their their fellow human beings. In the mainstream standardized knowledge is united, which is often not questioned over a long period of time, because its members - according to the mainstream - have to be conformed and authority-obeying to preserve the "proven thinking". To the positive changed our world has always been changed for the better by "troublemakers" like Einstein or Mozart – diese Menschen, die den Weg zur Quelle gegen den Strom suchen, braucht unsere Zeit, in der wir erkennen müssen, dass der Mainstream uns nicht aus der Sackgasse führen wird, in die wir durch den Mainstream have been led.
Summarized by Brigitte Ross
.
ISBN
978-3-9814759-0-6